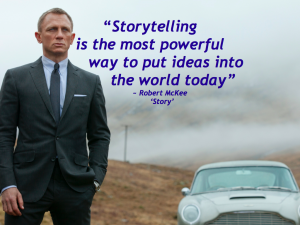 STORYTELLING IS THE MOST POWERFUL TOOL IN A LEADER'S TOOLKIT…
…Says Harvard's Howard Gardner, author of numerous books, including "Leading Mind" and "Changing Minds" – and many experts agree. Storytelling is a powerful tool to clearly communicate the organisation's vision, mission and goals to get everyone moving in the same direction.
Ever since ancient times, people told each other stories in all situations. We all tell stories in any sense. Across the world and in all cultures, storytelling been the most important and widespread medium for imparting knowledge, experience and values. Everyday Storytelling has always existed, whereby the family, the village or the working community exchanged information using anecdote, gossip or short stories. Via the telling of stories we communicate, connect, and exchange the information that is important both for ourselves – and for others – that gives meaning and context to our shared experiences.
INSPIRE WITH DEPTH, BREADTH AND PASSION

Whether you are a leader, manager, marketer, engineer or entrepreneur, there is a great need in today's volatile economic climate to inspire through consistent, reliable stories that express loyalty and commitment. To achieve business goals and protect market share, companies need to motivate colleagues, employees and the community faster and more effectively than ever before. It is therefore more important than ever to find effective and useful ways and methods to rapidly and as captivating as possible, communicate the message. To do that you have to inspire with the depth, breadth and passion that only story can provide!

Stories are an experience-based communication. By using "the inherent power of story" in presentations, marketing and interpersonal communication reaches you faster and more authentic others in depth. It is an accepted fact that a message is more powerful and compelling when stories are incorporated in communication. Telling compelling stories is the quickest and most effective way to capture and engage an audience's attention – a far more captivating way than power-points, dry descriptions or lists of facts and figures.
IN THE COLOURFUL MANTLE OF STORY

Lift your message to new levels by learning to cloak messages, content, arguments, presentations or other vital information in the colourful mantle of Story. There is no greater measure of personal development than to become a confident, inspiring storyteller and experience the thrill of deep and genuine contact, empathy and engagement with other people – whether it is a meeting, a conference, a presentation on stage, or face-to-face with customers, colleagues, managers, employees, suppliers or the media.
WE OFFER THE FOLLOWING EXPERIENTIAL PROGRAMME:
"Why Stories Matter" … ' and
"The Power of Story – and how to use it"
Unique, powerful, fun experiential lectures, workshops, interactive seminars tailored to the group, class, or individualon how to using stories to communicate content faster, more persuasively and authentically.
You'll learn how to create powerfully, inspiring and motivatationally engaging communication strategies using the narrative force of Story.
STORYTELLING HELPS YOU TO:

• Increase sales and retain customer loyalty
• Protect market share and brand image
• Build and inspire more effective teams
• Contribute to strengthening core values
• Help employees to manage change
• Attract and retain valuable employees
• Increase interpersonal communication and engagement.
Great leaders use stories to inspire success. More and more global leaders including FedEx, Nike, Mary Kay, The Container Store and Costco Wholesales use stories and storytelling in their international subsidiaries and global communications.
"Great leaders tell great stories. " ~ Evelyn Clark, Biznik